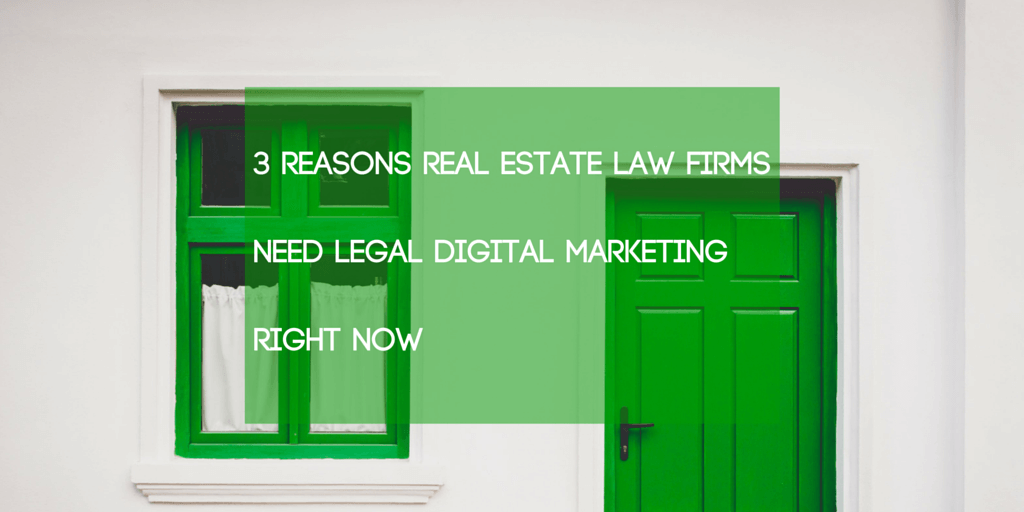 20 Dec

3 Reasons Real Estate Law Firms Need Legal Digital Marketing Right Now
Legal Digital Marketing is Critical to Position Real Estate Law Firms for the Coming Housing Correction 2.0.
The real estate market and real estate law will always hold a special place in my heart, largely because representing financial institutions in real estate matters was big part of what I did for over a decade. And, proving that old habits are hard to break, I still keep at least a casual eye on developments in my old sandbox.
The news for the real estate market this week was pretty much uniformly negative. Not much of a surprise given the unprecedented levels of government intervention in the real estate market the last 8+ years, but that's a topic for another time. Rather than sounding the alarm about a second housing correction event, I instead view these developments as a business opportunity for digitally saavy real estate law firms – both those that represent financial institutions, and those who represent homeowners. Here's three reasons why.
[Note: This article deals only with the residential real estate market. Commercial real estate is a completely separate market, featuring different financing vehicles and different legal mechanisms.]
Reason #1. Another Market Correction is Coming to Housing.
I'll avoid getting too deep here, but the news this week showed a severe slowdown in sales volumes in southern California (e.g. affordability/demand issues), creeping issues in getting/closing mortgages or refinances due to what is known as the TRID rule (e.g. affecting demand), and the first federal funds rate hike in 8 years, with more coming down the pike in 2016 (e.g. eventually raising mortgage rates, also impacting affordability/demand). When you add in stagnant wages, and consider the undeniable fact that federal and state governments have unsustainably propped up the demand side of the housing economy for years, it doesn't take a rocket scientist to see what this confluence of factors will eventually bring: Another housing market correction.
It won't happen overnight (real estate prices tend to be sticky on the downside), and it certainly won't look like what we saw in 2007-2012, but I'm convinced a second-wave housing correction is coming nonetheless. And, we already know what the correction will bring – higher mortgage default levels, and an increasing level of homeowners stuck owing more than their homes are worth. But, even in a down market, the old saying about real estate remains true: There's always money in dirt. The key for real estate law firms is to figure out how to position themselves today to participate in where tomorrow's revenue stream is likely headed.
Reason #2. Private Rights of Action, With Legal Fees.
One legal artifact of the last housing crisis is new laws on the books, at both the federal and state levels, protecting homeowners who have trouble making their house payments. There was a National Mortgage Settlement and the CFPB regulations modeled after it, and there's state laws like California's Homeowners Bill of Rights. There's also been changes in the bankruptcy arena tied to claims secured by mortgages. A good chunk of these new laws create a private right of action under certain circumstances, and importantly also allow for an award of legal fees under certain circumstances. A discussion on those circumstances is far beyond the scope of this article, but of particular note is California's Homeowners Bill of Rights, which awards legal fees potentially where only an injunction is issued. And, not all of the qualifying circumstances generating potential legal fees necessarily involve a foreclosure (although foreclosures certainly are covered). While admittedly the new laws should drive more loan modifications than actual foreclosures in the second-wave housing correction, the new laws still generally place all kinds of rules on pre-foreclosure activities, including how and when loan modifications must be offered and/or conducted.
If a second-wave housing correction is coming – and, I'm convinced it is – there is money to be made for real estate law firms in representing both homeowners and the financial institutions, even where the expectation should be for more net loan modifications than actual foreclosures. But, real estate law firms have to begin to position themselves now for what's coming, which leads us to Reason #3.
Reason #3. Real Estate Law Firms Must Engage in Legal Digital Marketing Now to Position Themselves for the Coming Correction.
Law firms with experience representing financial institutions should already have a general feel for the hot topics and pain points of their clients when a housing slowdown results in a proliferation of lawsuits claiming origination violations, servicing violations, wrongful foreclosure, etc. And, law firms with experience representing homeowners should likewise already be familiar with what troubled homeowners seeking legal assistance will be interested in. Good digital marketing firms (including OneDemand) can add significant value with structured and data-driven keyword analyses, ensuring your real estate law firm's digital marketing strategy stays on course and targets the right end points.
Real estate law firms on both sides of the aisle should be investing in legal digital marketing now, strategically targeting high-quality content on those issues, topics, and keywords that will rise in significance to their client base when the housing slowdown begins anew – so they are already in the right place when the second-wave housing correction hits. While the legal digital marketing strategies will differ for each firm (for example, digitally reaching EVPs at financial institutions requires a different strategy than reaching consumers online), the basic tenet remains the same: Design a legal digital marketing blueprint now, and execute on it with high-quality content now, so your real estate law firm is well-positioned to capture digital leads later.
Real estate law firms that think ahead and invest in their digital presence now will have a leg up in online visibility and name recognition when clients begin looking for help later. Those who wait until the second-wave housing correction has already started in earnest will be left playing catch up to more tech-savvy real estate law firms who made the investment earlier (and they'll also be left competing with a flood of new entrants into the particular legal field). The time to build your real estate law firm's digital advantage is now.
—
If you're like most attorneys I've been talking to, at this point you're wondering where to begin (and how much it costs). While there are many digital marketing agencies out there, and at a range of prices, you will almost always get what you pay for. I've seen firms offering services for a few hundred dollars a month, but at that level you'll be getting cookie-cutter digital strategies not really targeted to the legal vertical at all, and executed by an offshore team that hasn't ever appeared in a courtroom – with your results very likely to match. Unlike most others in the space, OneDemand offers professional digital marketing services just to the legal vertical, including law firm web design and legal content management, uniquely managed by an actual attorney from a top law school.
With the largely negative news coming out this week about the real estate market, the bell has been rung for real estate law firms: The time is now to digitally position your practice for the coming Housing Correction 2.0, and OneDemand stands ready to help our clients in the real estate practice area get ahead with our unique brand of legal digital marketing for attorneys, by attorneys. Even if we aren't working with your real estate law firm (yet), I'd love to hear in the comments or on social media: How are you digitally positioning yourself to capitalize on market trends in the real estate practice area?
Best,
Scott J. Jackson, Esq.