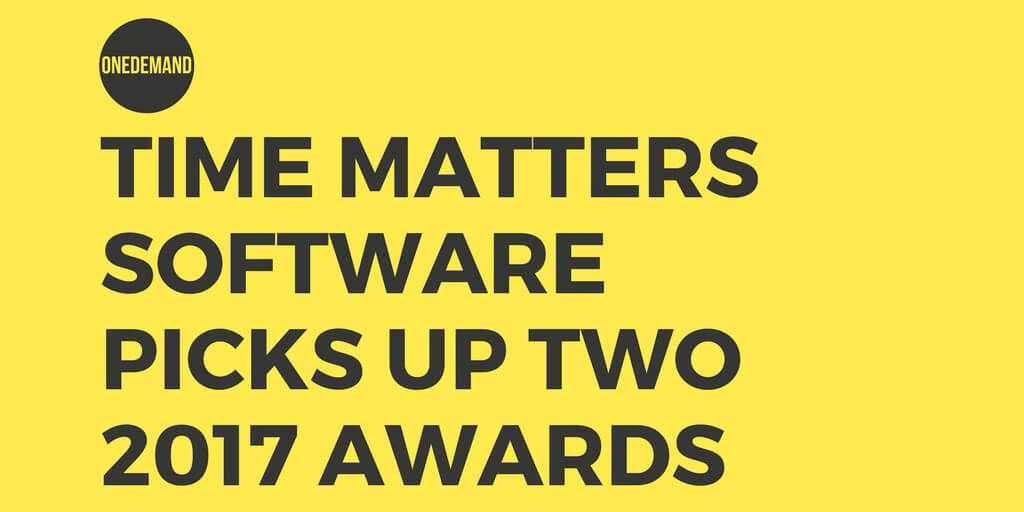 19 Jun

Time Matters Software Picks Up Two 2017 Awards
Time Matters Software: Making A Comeback
Lexis Nexis has recently been taking steps that make it clear Time Matters is a priority in their case management software strategy.
Beyond recently discontinuing Firm Manager (their SaaS solution), Lexis Nexis announced that their Time Matters software solution also recently picked up two 2017 "gold medals":
The Best of Corporate Counsel and the Best of the National Law Journal awards are chosen by the publications' readers and by working professionals in the legal industry. We are excited to highlight that Time Matters received 2 gold awards for Time and Billing Software: (1) Best Time and Billing Software, National Law Journal; and (2) Best Time and Billing Software, Corporate Counsel.
This is actually a fairly big comeback from a case management solution that many had left for dead, given the self-inflicted issues Lexis Nexis had in the years after it first acquired the platform.
Once the most-used case management system, those issues allowed competitors like Thomson Reuters' ProLaw to overtake its market standing; leaving many long-time Time Matters users wondering what the long-term product strategy for Time Matters was.
[RELATED: 3 Reasons We (Still) Love Time Matters]
Having worked with Time Matters software since way back in Version 2, it's refreshing to see Lexis Nexis bring Time Matters back to life. Much of the stability issues in the code base have been resolved, but even better is my (entirely unsubstantiated) inference that Lexis Nexis is planning to make Time Matters into a truly hybrid solution – which will make many lawyers very, very happy.
Although they haven't said anything, my background as a CTO and a developer sees the potential here: The more recent addition of the Lexis Nexis Common API, and the long-standing Time Matters mobility feature, lays the foundation for a hybrid solution that attorneys can install and run like the traditional COTS they are comfortable using, but with those web-enabled features that lawyers would love to have.
[RELATED: One Big Thing For Law Firms Evaluating On-Premises Case Management Solutions]
Lexis-Nexis would, of course, have to do quite a bit a heavy lifting to make a truly hybrid solution happen, but the initial framing is in place to do it. It isn't hard to envision integrations with other applications through the common API, nor it is hard to envision improvements to the TM Mobility service that make it actually useful in the mobile environment (and less of the gimmick it currently is).
Time Matters Certified Consultant For Lawyers And Legal Departments in Dallas-Fort Worth
We're proud to be a Time Matters certified consultant serving law firms and legal departments in the Dallas-Fort Worth region, and feel just a bit of vindication seeing the platform make its comeback. We've stuck with it for over 15 years, and there's a reason it's our preferred on-premises CMS (we've used ProLaw and found it to be overly expensive, not user-friendly, and feature-lacking). While an on-premises case management solution isn't right for every law firm or corporate legal department, Time Matters remains a strong option for many in the legal vertical.
Best,
Scott J. Jackson, Esq.