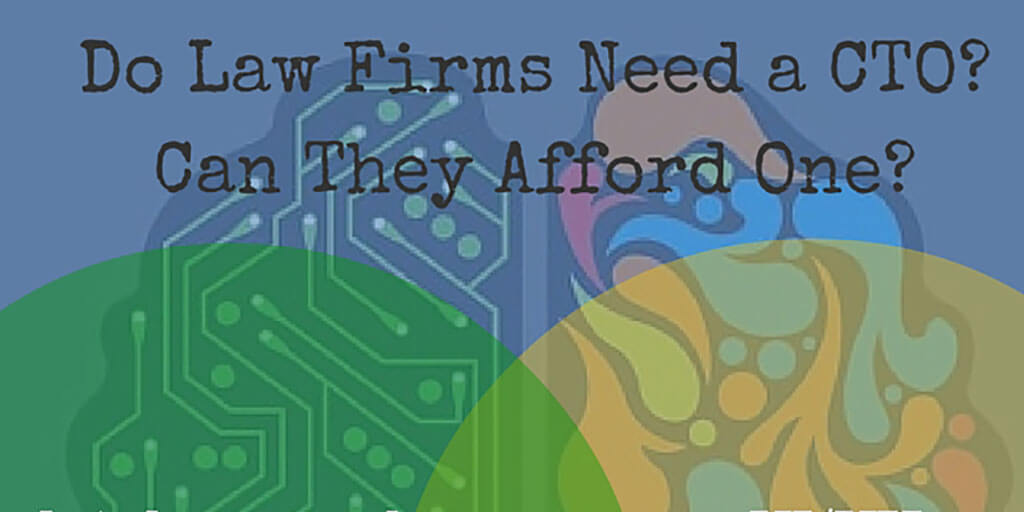 27 Jan

Do Law Firms Need a CTO? How Can They Afford One?
Technology is Changing the Practice of Law, and Fractional CTO Services Provide a Cost-Effective Way for Law Firms to Keep Up.
Spoiler alert: I'm an attorney, and I'm a CTO. So, I'll let you guess where my bias lies here. But, before you let my bias answer our question, consider: Technology was a driving force behind how I helped transform a solo practice into a 200+ person law firm with over $25mm in annual revenue. Interested in why, and how you can do the same with your law firm? Then this article's for you. Before I address whether or not law firms need a CTO, though, we first need to define the term.
What is a CTO?
In literal terms, a CTO is a Chief Technology Officer. The issue, though, is not just what the moniker stands for, but more in the role the CTO plays – and that requires a bit more of an active definition.
A Little More About The CTO Role.
A CTO's role generally involves broad-based understanding of technology across different verticals, with a big-picture understanding of how different technology solutions can be leveraged, coordinated, and deployed to meet business objectives. The CTO will usually combine this knowledge with executive leadership skills, which become crucial when tasked with leading an organization's technical talent base in alignment with corporate objectives. At core, all companies must (eventually) make money. It's fun to code and deploy cool stuff, but business goals usually require said cool stuff to keep a lid on overhead, increase productivity, or drive revenue growth. (You know, that whole "return on investment" thing.)
I personally think the most effective CTOs are also those with deep experience in at least one of the verticals critical to their organization's business mission. For example, if a company's survival and growth depends on its web presence, I would suggest the best CTO for that company would be one with significant, hands-on experience actually coding for the web. Not only will this ensure the CTO has the knowledge base critical to the organization's success, but it will also give the CTO the necessary gravitas to get buy-in when leading their team. (For this reason – and the fact I actually like to create code, and want to keep my skills relevant – I always maintained active coding duties in the CTO role.)
What About the CIO or CDO?
While many like to make distinctions between a CTO and a CIO (Chief Information Officer), or a CDO (Chief Digital Officer), I think the distinction is – and needs to be – fading away. Traditionally, a CIO would modify existing software to meet internal needs (while a CTO would source and develop new technologies for emerging needs), and a CDO would handle digital/web aspects (while the CTO and CIO would handle hardware/software aspects). Although there's a ton of chatter over who does what, I'm in the camp that believes the continued evolution of technology is forcing the retirement of these silos.
Whether called a CTO, CIO, or CDO, an organization needs a technology leader capable of shepherding all aspects of its technology plan – both big picture and day-to-day internal issues, and spanning both hardware/software and digital/web channels. Today's technology challenges are largely about functionality, which simply does not demarcate by job title. Solutions to functional challenges require a cross-disciplinary approach to technology. Getting two applications to integrate? The solution can potentially involve web services or an API, and can easily extend beyond just the two applications in question to include web-driven solutions (like Zapier or FlowXO). Simply put, today's CTO must be more and do more than yesterday's CTO.
So, How Can a CTO Help a Law Firm?
Law firms today are looking at technology the same way as any other business: As a tool to resolving functional challenges. How do I automate data entry to lower overhead? How can I access my case data wherever I am? How can I handle client status inquiries in a less labor-intensive way? How do I stake my claim in the ongoing "land rush" of internet marketing, to ensure my firm remains relevant and visible in search and social channels going forward? Most attorneys know at a high level that technology is needed to address most of these functionality concerns. The issue becomes how law firms and attorneys engage with the services they need to deliver the functionality critical to their operations and growth.
Today's law firms face technology demands in two completely different arenas: practice management, and the web. Ignore practice management, and both profit margins and optics suffer. Ignore the web, and potential clients find the competition instead of you. Practice management tends to be a left-brain dominant activity, as it involves database work, workflow engineering, document automation and management, etc. The web leans more in the right-brain direction, relying a more heavily on visual mediums, UI/UX (user interfaces/user experience), content writing, internet marketing, and information design. How do attorneys source and find effective technologists with these decidedly different, yet equally critical, cognitive abilities?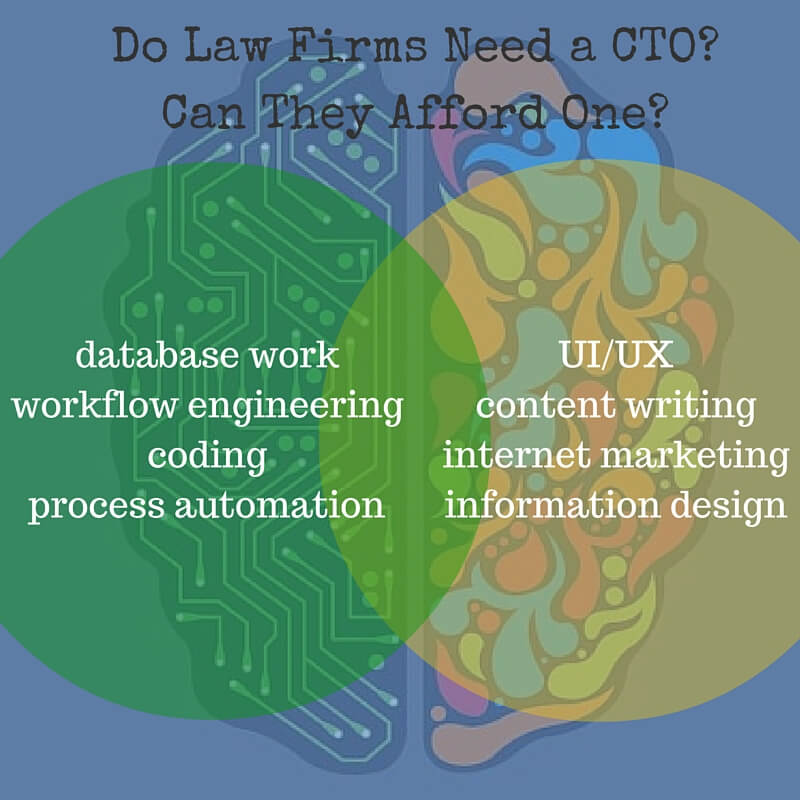 Legal CTOs meld left brain + right brain skills into a cohesive technology approach.
Law firms have typically straddled this gap in piecemeal fashion, by sourcing different vendors for different purposes. There may be a vendor who handles the corporate LAN and email, another vendor who handles the case management system, another vendor who handles the billing package, another vendor who handles the web work, and yet another vendor handling the internet marketing. For law firms without a CTO, the net result of this sort of haphazard arrangement is a fairly disjointed technology plan, with vendors operating in their own orbits and not executing to meet a cohesive vision for how the different technologies can and should work together to further the law firm's tangible business goals – costing the law firm more money for less outcome.
An experienced legal CTO brings vision and guidance to how a law firm can deploy technologies from across different channels to help solve the law firm's operational challenges, coordinating both the left-brain and right-brain spectrums to deliver the necessary functional outcome. Law firms using a legal CTO end up having their technology spend pointed in the "same direction", resulting in significantly better business outcomes than the patchwork vendor approach.
How Can Law Firms Afford a CTO? Enter the Fractional CTO Alternative.
Most larger law firms have an on-staff legal CTO – which ought to by itself send a signal to all attorneys about the value of having a technology champion on board. In my experience, though, the magic number for a law firm to afford a legitimate in-house CTO is around $4mm-$6mm in annual revenue. But, what about everyone else? How are they supposed to compete in this new world where technology is becoming the driving force behind rainmaking, optics, and operations? This is where outsourced or fractional CTO services come in.
Fractional CTO services are a fairly new and growing segment in the delivery of technology services, allowing organizations to use a single vendor – an experienced CTO, at that – to meet their technology needs on an outsourced basis, without having to source or payroll an on-staff CTO. And, companies like OneDemand are now delivering fractional CTO services tailored specifically for the legal segment. Fractional CTO services are growing because of a point I made earlier: Technology today is largely about functionality concerns. In turn, functionality is centered on business objectives, and it is near impossible to use a patchwork of different vendors and expect the end result to magically align with those business objectives. The fractional CTO alternative, however, offers a service delivery model tailored specifically to target functionality: It uses an experienced CTO to align and deploy technology designed to meet specific business objectives, and will usually do so for less total spend, less time, and far less headache than the patchwork vendor model.
Most law firms know they can't ignore technology if they wish to compete and succeed, and that is becoming even more true as technology continues to mature and evolve. A legal CTO helps law firms cohesively deploy technology targeting the firm's business goals, and fractional CTO service providers – like OneDemand – provide similar services to law firms on an outsourced and project basis, for a fraction of the expense associated with an on-staff CTO (and usually for a flat fee).
—
Although this is a topic for another post, to me the value of investing in technology is beyond question. If a law firm wishes to survive what technology is doing to the practice of law, it simply must invest. In my firm, technology drove the entire practice area. It resulted in a prevailing flat fee economy (which mandates technology to be efficient), and it resulted in tech-savvy law firms being able to capture business in large part because of how they were able to leverage technology to meet both their internal needs and the needs of their clients. Without strong technical leadership in our firm, our growth to over 200 employees and over $25mm in annual revenue never would have occurred. And, I'm convinced my practice area was simply ahead of the curve: The same forces that forever altered my practice area are now happening in other practice areas. Law firms can either embrace these market forces and engage with technology, or they can drift into irrelevancy.
But, the key will always be in the execution. Throwing money at a patchwork of vendors is not the same thing as a professionally executed technology plan, and the results will certainly not be the same. OneDemand offers legal CTO services to law firms on an outsourced, fractional, and project basis – from someone who has been in your shoes. We tie together both the technical and digital spectrums under one roof: operating on the legal technology and practice management side, and operating on the web development and internet marketing side. We're OneDemand, and we're ready when you are.
Best,
Scott J. Jackson, Esq.