22 Jun

3 Reasons We (Still) Love Time Matters
Hello Time Matters, My Old Friend.
3/10/2017 Update: We've relocated from Orange County, CA to Dallas-Fort Worth, TX! This move means our legal tech services have now arrived for law firms in the DFW area.

Time Matters is an on-premises case management system from Lexis Nexis, and has been around for 15+ years, although it wasn't always owned by Lexis Nexis. I spent early November 2015 in Raleigh, NC at the home of Time Matters, engaged in training to become a certified Time Matters consultant – which is (and now was) just a formality after our 15+ years working with the software.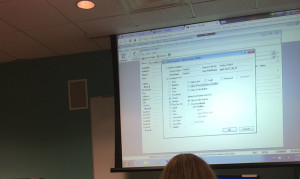 AT THE TIME MATTERS HQ. Enjoyed seeing Time Matters, my old friend, again – and enjoyed meeting some great like-minded people.
While OneDemand supports various different case management systems, and we are certified in many of them (including Time Matters), I figured I'd use the occasion of my visit to Time Matters HQ to give 3 reasons why we (still) love this particular software in an on-premises environment.
Reason #1. Don't Call It A Comeback.
Time for a quick history lesson: In 2005 or so, Time Matters was the king of practice management software; it had a large installed user base, and for good reason. The software was unmatched in its features, was very stable, could scale easily from a solo to a large firm environment, and was very affordable compared to the rest of the market at the time (and, SaaS solutions didn't really exist yet). Then came the acquisition of Data.Txt by Lexis Nexis, and Time Matters took some hits over the first few versions released by Lexis Nexis: bugs began to creep up in the code base, features were left to age without improvements, and the pricing moved substantially higher (evolving to a subscription model that was fairly new when they did it, but has now become commonplace).
[RELATED: Amicus Attorney Small Firm Discontinued]
Although the software still faces headwinds (largely from cloud-based SaaS solutions), I believe Time Matters is moving beyond the stage of its own self-imposed injuries – and is poised to recapture market share in the on-premises environment. Lexis Nexis has now had years to get control of the code base (meaning, I expect releases to be stable), its subscription-based pricing model is no longer a shock (and today is once again quite cost-competitive), and in my discussions with them during my visit, it appears they have a solid handle on what the program does well and where it needs improvement. And, importantly, they are actually tackling those improvements now.
With better stability, and when combining Time Matters' traditional strengths with a renewed focus on improving features (see #2 below), I think Time Matters is a great solution where an on-premises CMS solution otherwise makes sense. (On-premises vs. cloud vs. hybrid is another discussion for another day. Please contact us if you have questions in this arena.) Everyone likes a comeback story, even if they've been here for years.
Reason #2. Functionality and Usability.
Time Matters has always stood out for its intuitive user interface, or UI. It may not always be "pretty" (in the way, say, Clio can be), but the UI presents and structures data in a way that is easy for end users to access, and easy for them to understand. In years of training hundreds of new team members on the software, I've never had anyone complain that they were unable to find "their cases" or "their tasks", or complain they didn't know how to do the basic user tasks (e.g. create a record, add a note, etc.).
[RELATED: One Big Thing For Law Firms Evaluating On-Premises Case Management Solutions]
And, Lexis Nexis is working to add new features while actually fine-tuning the existing ones. In meeting with the head of Time Matters' development, he indicated that they are working to take existing features and make them even better – while noting he was aware of Time Matters' reputation for coming up with great ideas but only getting them to the 10-yard line. Some new-ish and new features we like:
» TM Mobility. A cloud-based service hosted by Lexis Nexis that allows users to access their local Time Matters data on mobile phones, tablets, etc. – particuarly allowing for mobile entry of time. While still an on-premises solution, and although TM Mobility is still fairly limited in what it can do, this functionality helps bring the platform into the modern age. I would expect to see additional features added to TM Mobility in coming releases, to help it better compete in a world of growing cloud-based SaaS solutions.
[Note: The original version of this article noted how much we liked the WatchDox integration. After this article was first published, Blackbeery acquired Watchdox and the service became unreliable – and eventually was killed off by Lexis Nexis in April 2016. We detail other secure document sharing alternatives for Time Matters users here, and give our latest favorite feature instead below.]
» OneDrive Integration. With the release of Time Matters 15.1.1, Time Matters now directly integrates with Microsoft's OneDrive cloud-based document storage and sharing solution. The integration works with both the personal and business versions of OneDrive, although we caution law firms that the personal version of OneDrive currently lacks encryption at rest. This new feature further pushes Time Matters into a hybrid solution (e.g. an on-premises solution with cloud-based capabilities), and can provide significant cost savings to law firms who are otherwise having to backup their local, on-premises document repositories using a third party solution.
» Lexis Nexis Marketplace/API. Version 15's release included a brand new shared API add-in that allows for integrations between Time Matters and third-party applications, including cloud-based ones. The API is called the "Lexis Nexis Marketplace", and it is available at no extra charge to current Time Matters 15 and above subscribers. The Lexis Nexis Marketplace currently links Chrometa (a leading SaaS passive timekeeping solution) with Time Matters, and it will be expanded to other vendors over time. To me, this move is a key turning point for the software. Rather than trying to "be everything to everyone", Lexis Nexis is focusing Time Matters on improving what it does well while opening the architecture to third parties who do other things better. I have been told that at some point Lexis Nexis expects to have a fully open API, which is probably only exciting to developers like me, but for now Lexis Nexis wants to control the quality and stability of the integrations it allows.
Reason #3. Next-Level Application Development Capabilities.
As a developer, Time Matters has always stood out to me for its customization capabilities. The software has always had an architecture that lends itself to more detailed, and more powerful, application development than its competitors. While the software will certainly work right out of the box, a good application developer (why yes, I do know of one) can take a law firm's investment in Time Matters to the next level. There are features in Time Matters which – when properly designed, coded, and deployed – can make a law firm's workflow incredibly focused and efficient, can add serious transparency and control to firm operations, and can return significant ROI multiples on the law firm's investment.
—
For me, playing around with Time Matters in a classroom setting was as comfortable and familiar as putting on a favorite pair of old jeans: I built and grew our firm's practice on Time Matters over 15+ years, and at one point supported over 150 active, concurrent users on our installation. But, we also did far more than just develop the software application within its own framework. All software applications, even great ones, have limitations when it comes to any law firm's practice. So, when we needed something that Time Matters didn't have, we just programmed it ourselves: rules-based calendaring, custom data syncs, custom reporting, document automation, etc.
[RELATED: 5 Things Your Law Firm Case Management System Should Do]
So, while Time Matters can work right out of the box, it can be so much more than just another piece of software in the right hands (ahem, such as ours). At OneDemand, we are experts in Time Matters, its database structure, and in SQL Server. The ROI on application development in the Time Matters universe is downright exceptional – we achieved well north of 100% ROI through efficiency gains. And, I'm truly excited that we will soon be (and now are) a Time Matters Certified Consultant, formalizing what we've long known about the software while offering similar ROI opportunities for other law firms as we continue on our expansion path.
[UPDATE: OneDemand is now a Time Matters Certified Consultant covering all of the Dallas Fort Worth area: including Dallas County, Tarrant County, Collin County, Denton County, and Rockwall County.]
What about you? What successes or challenges do you see with the software? Tell us in the comments, or on our social media. And, of course, you know where to find us if you need help.
Best,
Scott J. Jackson, Esq.


@soclsurfer


www.linkedin.com/in/sjjdev