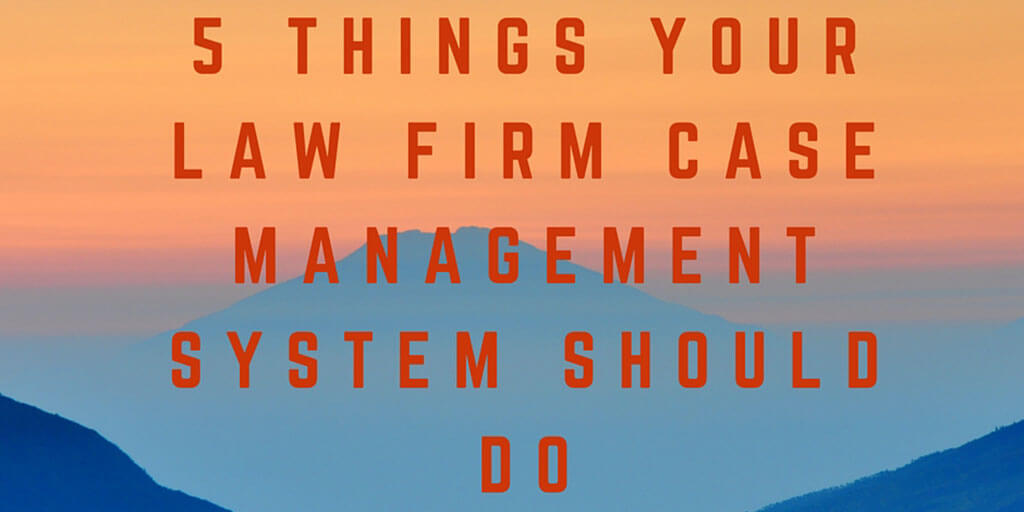 25 Mar

5 Things Your Law Firm Case Management System Should Do
Whether in the Cloud or On-Premises, Your Law Firm Case Management System Needs To Do These 5 Things.
You already know that a law firm case management system (or "CMS") is the backbone of your law practice, and you're now knee-deep in figuring out which one to choose. It's a complex decision, to be sure, with many factors to consider – I know, because I've been there myself, and evaluated many different solutions for my own law firm through the years. While the ultimate answer here will be unique to each law firm's needs and goals, functionality is still a common thread across every law firm's decision funnel. Here's the five features I believe any law firm case management system you choose, whether in the cloud or on-premises, needs to address.
[RELATED: Does Your Law Firm Need a Case Management System?]
1 – Time Tracking.
This one isn't likely to shock the lawyers in the room. If you can't track your time, then you can't bill your time. Even law firms engaged in alternative fee arrangements shouldn't ignore this feature – they'll still need the ability to know what tasks should be billed for, at what rates, and on what matters.
Obviously every law firm case management system will include some sort of time tracking capability. So, when evaluating different CMS platforms, it instead becomes critical to look at how they handle time capture and reporting. Do they handle both active and passive timekeeping? Does the functionality to "catch" potentially unbilled time exist? Can the system handle tracking by task, as well as tracking by the hour?
Cloud-based CMS solutions generally allow for the ability to enter time wherever you may be from your mobile device, but today even the more robust on-premises CMS platforms can also offer the same functionality. (For example, Time Matters by Lexis-Nexis features TM Mobility to allow for time entry, and other functions, directly through your mobile device's web browser.)
[RELATED: 3 Reasons We (Still) Love Time Matters]
You might also notice what is not listed here: billing and accounting. While obviously billing and accounting are crucial to any law firm, it isn't critical that these functions actually be housed inside your law firm case management system. In fact, there are certain business considerations that can mitigate in favor of keeping your law firm's billing/accounting outside of your CMS – but that's a topic for another time.
2 – Calendaring & Docketing.
Deadlines are synonymous with the practice of law. And, missing a deadline is the quickest way to a malpractice claim. There are two big advantages to using a CMS-based calendar, versus using a stand-alone product (like Outlook or Google Calendar). First, a CMS calendar can associate deadlines, tasks, events, etc. with specific matters. So, rather than simply having an event sitting on a calendar in a vacuum, events on CMS-based calendars give users instant and seamless access to case documents, contacts, and histories. Second, CMS-based calendars ensure institutional knowledge critical to your law firm – e.g. deadlines, etc. – remain centrally available, and aren't left sitting on a paralegal's local desktop computer.
Again, every decent CMS platform – cloud or on-premises – will have some sort of calendaring function, and the critical consideration becomes how its calendaring function operates. Some questions to consider: Can multiple users be assigned responsibility for a calendaring task, or only one? Can the calendar support public and private events (or, for example, will something only a partner needs to see end up visible to an associate)? Can calendaring events be automatically triggered when an action is taken in the CMS? How are users notified of calendar events?
Some attorneys also want a rules-based engine to calculate court-specific deadlines for them, and many CMS platforms will offer that functionality within their calendaring. I wouldn't rate rules-based calendaring as critical to the docketing function, particularly because there are third-party applications to achieve the same results, but it is something to keep in mind. Finally, I will also hint at another key feature we'll get to later – but the CMS-based calendaring function really needs to be able to integrate with Office 365 or Google Apps.
3 – Email Management.
Email is a critical communication tool in today's law firms. And, your law firm case management system needs to help you manage your email – so you can find important conversations about a certain case, or so you can make sure you're billing for the time associated with the emails.
[RELATED: OneDemand Now a Time Matters Certified Consultant]
It is not critical that you be able to send or receive emails directly from within the CMS, although many (largely on-premises) platforms do allow for that functionality. What is critical, however, is the ability to tag the emails you receive, and that you send, to a specific matter or file. On-premises case management systems will usually offer the ability to integrate with a Microsoft Exchange Server, or with Outlook mail clients, to accomplish this task – and then they branch out from there as to what features they allow (e.g. drag-and-drop, add-ins to tag directly in the email client, etc.). Cloud-based CMS platforms will usually take one of two different approaches – they'll either integrate directly with Google Apps or Office 365 via API, or they'll set up a special email address for you to forward the emails you want to tag (which their solution will then process and auto-tag).
There are other considerations here, too (for example, how are the emails stored?), but the key is to make sure your law firm case management system has the ability to manage your emails, and that the method it uses matches your law firm's needs.
4 – Document Management.
Law is still a document-driven business. Even though actual, real paper is becoming less prevalent as technology marches onward, electronic documents are still documents! And, at least to me, document functionality alone will make or break a law firm case management system – and can, entirely by itself, pay for the CMS investment through the amount of time it saves.
There's two document-related functions that I rate as critical for any law firm case management system. First, the CMS must have at least simple document management capabilities – allowing documents to be stored and tagged to individual matters. No attorney should ever expect their CMS to replicate what a true document management system ("DMS") can do, but many lawyers don't actually need a true, full-blown DMS. Second, the CMS must have document assembly capabilities – meaning, it can automatically pre-fill or merge documents with data specific to a particular case.
Most CMS platforms allow for simple document management, with cloud-based CMS solutions also allowing for you to link to DropBox, Google Drive, etc. But, interestingly enough, not all CMS platforms can do document assembly, and that was a real deal-breaker when I ran my law firm. Some other factors to consider when looking at document functionality include: Can you check in/out documents? Does it support versioning? Is there a search function, and how does it work (e.g. plain text, heuristic)? How is document storage handled, and how is security addressed?
5 – Ability to Integrate.
The ability to integrate is the biggest, and most important, factor when deciding which law firm case management system to use. Practice management challenges at today's law firms center almost exclusively around functionality. The old thinking here was that these challenges could be solved with a "killer app" – e.g. the one platform that could do it all. And, many have tried – and failed – to create that holy grail. The reality today is that the "killer app" is dead, because experience has now shown that any platform that tries to do everything ends up being mediocre, at best, at everything.
[RELATED: OneDemand Now a Clio Certified Consultant]
The modern approach to addressing functionality challenges inside law firms is to use systems that "play well" with others, allowing your law firm the flexibility to use best-of-breed solutions to meet its different business needs. Both on-premises and cloud-based CMS platforms can offer an impressive array of integrations, and it is important to select the platform that offers the integrations your law firm requires. If you use QuickBooks, make sure your CMS can integrate with it. If you use a DMS (such as NetDocument, iManage, etc.), make sure your CMS can integrate with it. If you use Office 365 or Google Apps, make sure your CMS can integrate with it.
Note that any cloud-based CMS platform with an open API can be integrated with just about anything, and any on-premises CMS platform running on SQL Server can be integrated with just about anything. So, I'd recommend you ensure that your law firm case management system either has an open API (if in the cloud) or runs on SQL Server (if on-premises).
—
With over 15 years of experience, OneDemand helps attorneys get the most out of whatever law firm case management solution they choose, whether it is cloud-based or on-premises. We're SQL experts, and we're certified on Time Matters and Clio – and we have the programming background to take any law firm case management system to the next level. For more of our thoughts on this issue, join our mailing list, follow our social media, or just plain drop us a line.
Best,
Scott J. Jackson, Esq.