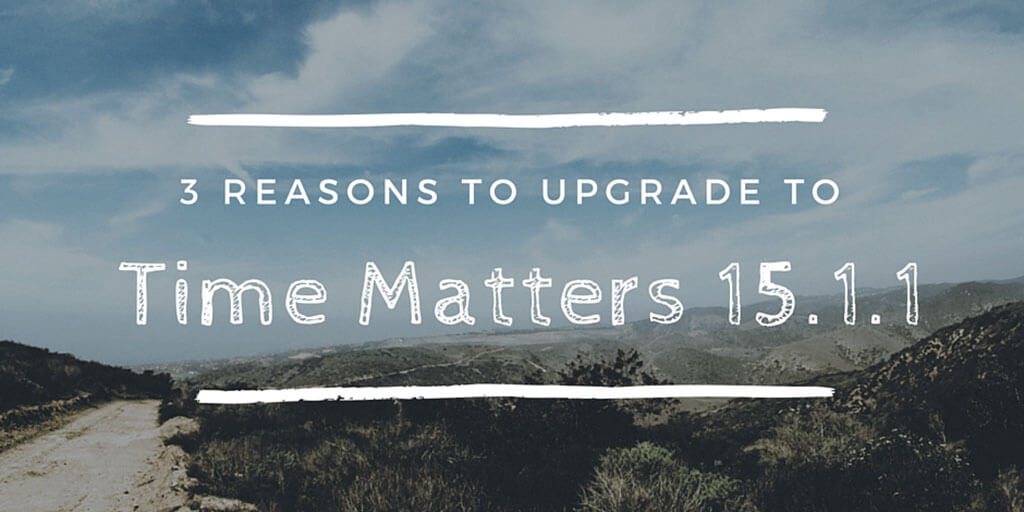 09 Jun

3 Reasons To Upgrade To Time Matters 15.1.1
We're Recommending Law Firms Upgrade to Time Matters 15.1.1 Now. Here's 3 Reasons Why.
3/10/2017 Update: We've relocated from Orange County, CA to Dallas-Fort Worth, TX! This move means our legal tech services have now arrived for law firms in the DFW area.
Time Matters is an on-premises case management system from Lexis-Nexis, and is currently in Version 15.1.1. We are a Time Matters Certified Consultant, have over 15 years of experience with the software, and it is our preferred on-premises law firm case management system (although we work with just about any of them).
Lexis-Nexis recently released Version 15.1 of its Time Matters case management software, followed very quickly by Version 15.1.1 – literally days later. The reason? Well, read on: It's one of the reasons we're recommending law firms upgrade to Time Matters 15.1.1 now.
Reason #1: If You're Running Time Matters 15 or 15.1, The Upgrade Is Critical.
Per Lexis-Nexis: "A defect was found in Time Matters 15 and 15.1 that effects (sic) linking contacts to secondary records such as documents, emails, phone, etc. Currently only a few customers have reported the defect but all customers who have installed Time Matters 15 or 15.1 are effected (sic)."
[RELATED: OneDemand Now a Time Matters Certified Consultant]
This defect only impacts law firms running Versions 15 or 15.1 of Time Matters, and does not impact those running previous versions of the software. The good news here is that no data was lost, damaged, or corrupted by the flaw – but you'll need to upgrade to the latest build (15.1.1), and then run a free utility from Lexis-Nexis to "re-link" and correct your data.
[RELATED: One Big Thing For Law Firms Evaluating On-Premises Case Management Solutions]
Details on the process can be found here, and it is fairly simple, although the upgrade path should be scheduled for evening downtime (because all users need to be logged out before running the utility tool). Of course, as a Time Matters Certified Consultant, we're also happy to handle this process if you need help.
Reason #2: Microsoft OneDrive Is Now Supported.
Time Matters 15.1.1 features a brand new integration with Microsoft OneDrive, a leading cloud-based document storage service. The integration works with both OneDrive for Business, and with the personal/home flavor of OneDrive as well. (Note: We strongly recommend law firms shy away from the personal/home version of OneDrive, due to lack of encryption at rest.)
[RELATED: 5 Things Your Law Firm Case Management System Should Do]
This new document integration is a welcome addition, as it (along with the previously-released Chrometa integration through the Lexis-Nexis API Gateway) continues the push into making Time Matters more of a hybrid solution, rather than just an on-premises legal case management solution. Law firms running Time Matters 15.1.1 can now directly save documents to their OneDrive, allowing their attorneys and staff to access those documents on multiple devices wherever they may be. Even better is how this can save serious money: Law firms may be able to cut down their disaster recovery costs by integrating Time Matters 15.1.1 with OneDrive, because they may be able to avoid including the large volume of document data in their on-premises backup solution.
Reason #3: Updated Program Integration Support, Including Office 2016, QuickBooks 2016, and Adobe Acrobat DC.
Time Matters 15.1.1 also now supports the most recent versions of the productivity software used in most law firms. Office 365 is becoming like wallpaper for many law firms (and for good reason), and Time Matters 15.1.1 now integrates with Office 2016 (including Exchange 2016, whether on premises or hosted). Many law firms are also now on Adobe Acrobat DC (due to Adobe's move to a subscription model, much like Office 365), and Time Matters 15.1.1 now integrates with it as well. Same story with QuickBooks Enterprise/Pro 2016.
[RELATED: 3 Reasons We (Still) Love Time Matters]
We'll be mentioning this in an upcoming post, but these integrations are welcome and necessary for more than mere convenience: Many law firms we work with are on Windows 7, and will need to consider moving to Windows 10 soon (because the "free upgrade" to Windows 10 ends in a few months). Those law firms using Time Matters 15.1.1 are ready and clear to do so, and we're happy to report Time Matters runs very well on Windows 10.
—
Time Matters 15.1.1 is a "dot release", and like all dot releases, it also includes a slew of bug fixes. Most of these bugs are minor (and are not like the big one discussed separately above), but will still be welcome fixes for many users. For law firms that typically wait for a dot release before upgrading, our testing has found Time Matters 15.1.1 to be stable and a worthwhile upgrade.
OneDemand is a Time Matters Certified Consultant serving all of the Dallas Fort Worth area: including Dallas County, Tarrant County, Collin County, Denton County, and Rockwall County. Feel free to give us a shout if you have questions about Time Matters 15.1.1, need help turbo-charging it with reports or integrations, or just have questions about practice management in the cloud or on-premises.
Best,
Scott J. Jackson, Esq.