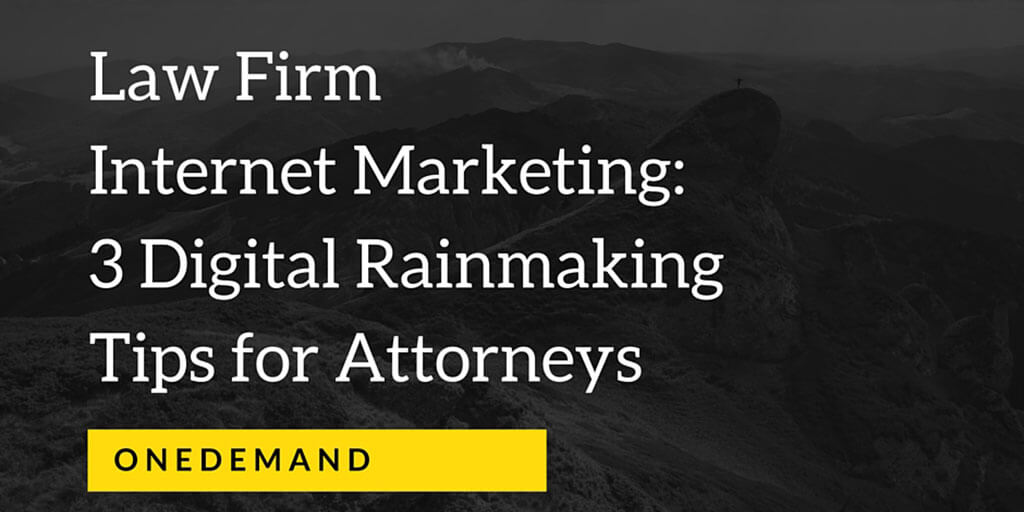 13 Feb

Law Firm Internet Marketing: 3 Digital Rainmaking Tips for Attorneys
3 Things Every Attorney Should Be Doing To Get More Clients Online.
In my nearly 15 years as an attorney, I've seen a dramatic shift in the relationship between lawyers and technology. Early in my career, technology was viewed solely as a cost center – something to invest in once the client base, and cash flow, was firmly established. In my practice area, though, a shift began around 2005 or so, and technology soon became "table stakes": If you wanted a seat at the table at all, a serious commitment to and investment in technology was a pre-requisite to even pulling up a chair. And, without a seat at the table, all of the more traditional rainmaking factors became nothing more than screaming into the wind.
So, we went all in: We invested heavily to build out internal case management systems that were second to none, and even developed a web-based SaaS case reporting solution to help our law firm stand out even more in our industry (which we later spun off, forming the first iteration of OneDemand). We didn't have a large client base, or a huge cash flow – we were a 2-person shop at the time. We had to forgo income (investing revenue back into the firm), and we had to rely on capital equipment loans. And, our investment in technology paid off: With our seat at the table secured, we were able to grow into one of the largest law firms in our niche, with over 200 employees and $25mm in annual revenue. Technology was obviously not the only reason for our success, but it certainly was a significant foundational factor.
As technology continues to mature, internet marketing is now "table stakes" for law firms wishing to effectively compete in pretty much any practice area. Family law? Employment law? Real Estate law? Business litigation? In every practice area, technology is changing how clients and potential clients source and consume legal services.
[RELATED: Read here for more about why real estate lawyers must engage in legal internet marketing right now.]
For the unbelievers out there, here's some stats (click the graphic to enlarge):

So, what things can a law firm do ensure it stakes a claim in the ongoing land rush of legal internet marketing? Here's three tips for attorneys looking to get started on law firm internet marketing:
Tip #1: Invest In a Professional Law Firm Website.
A law firm's website is the bedrock of law firm internet marketing – you simply cannot engage in internet marketing without one. Your law firm website also represents the first impression you'll give to the majority of your potential clients (even those who discover you by word of mouth). It is critical to have that first impression match your law firm's marketing tone and efforts, and it obviously makes zero sense to invest in internet marketing only to drive traffic to a website that sends the wrong message.
Websites today are nothing like they were even a few years ago. At minimum, attorney websites today must be responsive and mobile-friendly, should utilize best practices for on-page SEO optimization (if you're using meta keywords, you're doing it wrong), should engage the visitor personally with dynamic elements and content, and should make it easy for visitors to contact the firm with well-placed and well-designed calls-to-action.
If your website is more than two years old, you should strongly consider having a professional – preferably one with experience in the legal vertical – review your website for possible changes and updates. Investing a few thousand dollars in a professional web presence may be the best first step you can take in law firm internet marketing, and it will help your related investment in internet marketing actually produce results.
Tip #2: Get Listed in Online Legal Directories.
An important aspect of internet marketing is to help search engines realize that your domain is a highly-trusted resource for certain keywords. And, this is accomplished by building something called "backlinks", or links back to your website. There is a right way and a wrong way to do this, so be careful of anyone promising to take you to the "top of Google", or promising to do your attorney internet marketing for only a few hundred dollars a month, etc. – they'll likely engage in what is known as link-referral spam, which will get you blacklisted and banned by Google and others in fairly short order.
The right way to build backlinks is through organic channels, and online legal directories represent a great chance to do this. Both law firms and their attorneys should be submitting their profiles on all major legal directories, and doing so with content keyword-optimized to match their internet marketing strategy (something a professional law firm internet marketing agency can assist with). A few of the directories with high visibility and high domain value include Avvo.com, Lawyers.com, and LawGuru.com – with many, many others out there (including smaller, niche-specific ones). Most online legal directories include a free directory listing option, with the option to upgrade for better visibility. Depending on the domain value of the legal directory, it certainly could be cost-effective from an internet marketing perspective to purchase an upgraded profile (where it will otherwise drive better backlink value to your law firm website).
Tip #3: Consistent Legal Blogging.
Blogging is probably the most important way to grow your law firm's digital presence. It positions your law firm to potential clients as an authoritative expert on solving their problem, and it gives search engines the data they need to know that your domain is a trusted resource for your targeted keywords (while also building backlinks once your blogging has reached critical mass).
The key to blogging is in the execution. You have to choose topics that interest your audience, you should write with a keyword endgame in mind every time, and you must regularly and consistently turn out new content. The results form blogging can take months to appear; common thought is that it will take 100-200 articles to begin building an audience. Consistency and persistency are keys to seeing results from blogging. (And, again, this is all something a professional law firm internet marketing agency can assist with.)
Just as important, the content you post to your blog must be of high-quality – after all, your potential clients should be your audience. In the past, many would blog for "the machines" only, and turn out garbage that was stuffed with keywords. As Google has evolved its algorithms, however, this approach will only make you look like garbage to both the machines – who will likely blacklist you – and to your potential clients. (Again, stay far away from anyone who says they'll "get you to the top of Google", and keep in mind you'll get the results in law firm internet marketing that you pay for.) At the end of the day, the goal of producing high-quality content is to drive conversion rates – so that your attorney website visitors follow through and make contact with your law firm. The impact of the content on rankings then becomes an organic secondary effect, with this dynamic being exactly the direction Google has been taking its algorithm.
—
Right now, there's a land rush going on in law firm internet marketing – as attorneys are realizing that their future client base will need to be able to find them online, and are engaging in targeted legal internet marketing campaigns to stack the deck on those keywords most used by consumers in their practice areas and geographic footprints. The stark reality: Law firms who sit on the fence are likely to fall so far behind in this arms race that they may never catch up. It can be hard to try and break into the necessary keywords when the competition has already published hundreds (or thousands) of articles on those very keywords.
OneDemand helps law firms develop professional attorney websites, and helps law firms design and execute on professional law firm internet marketing strategies – including content final-written by a partner-level attorney, to ensure the content your law firm produces is not just keyword optimized, but also of high value to your audience.
We offer our legal web development and law firm internet marketing services nationwide, but operate out of the Southern California region (Orange, Los Angeles, San Diego, Ventura, Riverside, and San Bernardino counties). And, unlike any other agency in the space, all our internet marketing engagements get my direct, personal, and ongoing involvement. Feel free to reach out for a free no-obligation consultation, or just enter your email address in the form along the bottom of your screen if you're interested in our pricing information.
Best,
Scott J. Jackson, Esq.