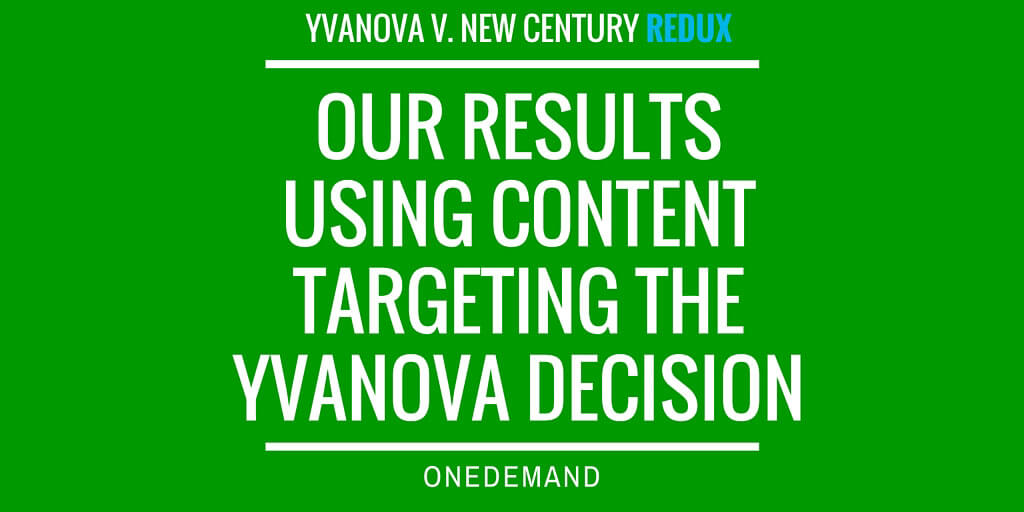 02 Mar

Yvanova v. New Century Redux: Results From Using Caselaw in Legal Internet Marketing
Here's Our Results Using Content Targeting the California Supreme Court's Yvanova Decision.
About ten days ago, the California Supreme Court issued its decision in Yvanova v. New Century Mortgage Corporation, and we wrote about the decision on the same day the opinion came down. We urged California real estate attorneys to use the opinion in legal internet marketing of their real estate law firms, and figured we'd now share how that advice could have played out for those law firms – by using our own website's traffic statistics.
[RELATED: Yvanova v. New Century: How Caselaw Can Shape Legal Internet Marketing]
The main thrust of our earlier post was to point out that caselaw like the California Supreme Court's decision in Yvanova presents law firms an opportunity to gain valuable online visibility – and both traffic and leads – because of two main factors. First, unlike many of the more generic keywords of high value to law firms (e.g. "real estate lawyers in Orange County"), there is likely to be far less content indexed in the search engines around the newly issued opinion – simply because it didn't previously exist. Second, clients and potential clients on both sides of the aisle could be expected to jump online to search for more details as news of the decision filters down.
Many roads can be used to get results in legal internet marketing, but playing "informational economics" – e.g. predicting demand for information, while knowing there's relatively little indexed content – is a very cost-effective way to achieve results. (Another path, not discussed here, is to run a PPC advertising campaign targeting the same keywords. And, if you search for Yvanova on Google, you'll notice this is the exact strategy at least one of your competitors is taking. Feel free to contact us for more details on PPC advertising.)
[RELATED: 3 Reasons Real Estate Law Firms Need Legal Digital Marketing Right Now]
Our Yvanova Results.
We looked at our Google Analytics and Google Search Console data for the 10-day period after the California Supreme Court issued its Yvanova decision, and compared the data against our average website traffic, clicks, etc. for the month prior to our Yvanova article (which we posted the same day the California Supreme Court issued its opinion). If you aren't familiar with either of these tools or how to configure them – for example, Google Analytics should be filtered to remove something called ghost referral spam – feel free to give us a shout.
Our website data showed results we think any law firm would find impressive – and we're not even a law firm! For the 10-day period, well over half of all our page impressions were of our Yvanova article – 54.3% to be exact. And, the additional traffic generated by the Yvanova article amounted to a whopping 63.1% increase over our usual 10-day web traffic average!
Even better, as of 3/1/2016 our Yvanova content is ranking in the top 20 on Google for various Yvanova searches (e.g. "Yvanova", "Yvanova v. New Century", "Yvanova California Supreme Court", etc.), usually falling somewhere in the 11-14 page rank slots. Not bad for a new-ish website launched only a few months back, and that's still working on building its trust ranking within Google. And, the click-through-rate (or "CTR") for all the various Yvanova keywords we're currently ranking for came out to an incredible 19.8% (you're generally doing really well on CTR if you can reach 2%-5%). The high CTR on our Yvanova content shows exactly why law firms should be using caselaw in their legal internet marketing: The traffic it generates is largely self-qualified as exactly the sort of traffic you want visiting your website.
The final word here is on conversion. "Conversion" is a fancy internet marketing word that describes getting your website visitors to contact you or to otherwise engage with you (such as sign up for your newsletter) once they're on your website. While conversion is driven by many factors (including a website properly designed to convert!), I'm happy to report that in the 10-day period we received double our usual email subscriptions – yet again proving that caselaw-driven legal internet marketing generally delivers a more highly-targeted lead than many other techniques.
[RELATED: Law Firm Internet Marketing – 3 Digital Rainmaking Tips for Attorneys]
—
Did I mention that we aren't even a law firm – but are outranking many law firms on content tied to the California Supreme Court's Yvanova decision? I believe our success here is at least partly due to the timing of our Yvanova article, as we posted it a few days before the news media or other law firms even got to it (echoing a principle we used in my old legal practice called "being there firstest with the mostest"). But, this kind of strategy and execution is exactly why I feel a lawyer provides unique value when it comes to legal internet marketing. Unlike more generic internet marketing agencies, we can work with you to pre-identify, target, and discuss upcoming caselaw – just like we did here in our Yvanova case study – so we're ready to leverage caselaw in your practice area to boost your law firm's online presence.
OneDemand offers professional law firm website design services and legal internet marketing services to law firms and attorneys nationwide, although we do operate out of the Southern California region (Orange, Los Angeles, San Diego, Ventura, Riverside, and San Bernardino counties). And, unlike any other agency in the space, our legal internet marketing clients get the personal involvement of a partner-level attorney from strategy to content generation. Feel free to reach out for a free no-obligation consultation.
Best,
Scott J. Jackson, Esq.