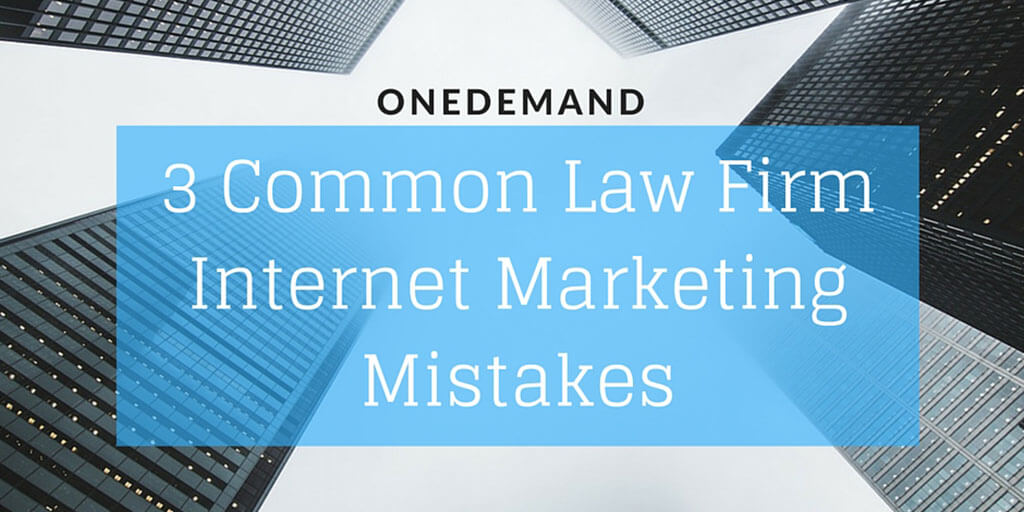 16 Jun

3 Common Law Firm Internet Marketing Mistakes
If You're Doing Any of These, You're Hurting Your Law Firm Internet Marketing.
At OneDemand, our mission is to help law firms better use technology both in their offices and on the web, all under one roof. And, when it comes to the web, building a professional attorney website is only a critical first step. After that, the most common question invariably becomes how to get more eyeballs onto the site (and later, how to get more of the right eyeballs onto the site).
The answer here falls under a fairly large umbrella called "law firm internet marketing": Strategies and tactics that help increase the digital visibility of your attorney website in search channels (Google, Bing, etc.) and in social channels (Facebook, LinkedIn, Twitter, etc.). As legal consumers increasingly look to the web – including social media – when they have questions, a solid law firm internet marketing plan can help convert those eyeballs into your potential clients.
[RELATED: Yvanova v. New Century Redux: Results From Using Caselaw In Legal Internet Marketing]
Most attorneys I talk with are aware of the growing importance of law firm internet marketing, and some have tackled it at the DIY level. Others are investing with outside marketing agencies (full disclosure: including us) to help build and execute on a targeted law firm internet marketing plan. Regardless of approach, I see a few common mistakes being made that can be easily avoided.
Mistake #1. Ignoring Content Marketing.
There are still a significant number of law firms out there that have invested in a professional attorney website, only to ignore blogging. These law firms generally fall into one of two camps: they are simply too busy being lawyers to bother with regularly producing content, or they are instead relying heavily on pay-per-click (PPC) to drive traffic. Their loss needs to be your gain.
With the recent changes to Google's desktop SERP, PPC for attorneys is likely to only get more expensive and less cost-effective, at least for the more competitive legal keywords that drive high-value traffic. And, frankly, I'm a bit counter-culture here: I discourage tilting a law firm internet marketing plan too heavily to PPC, because PPC can be like a drug. It feels good to get all that traffic, but much of it can be of the kind you don't want. Plus, you have to keep paying Google indefinitely, otherwise the withdrawal kicks in and your law firm's digital visibility falls off a cliff.
[RELATED: 3 Reasons Real Estate Law Firms Need Legal Digital Marketing Right Now]
While it can take a few months for a content marketing campaign to truly bear fruit, the resulting improvement in organic search rankings can produce a much more sustainable and cost-effective vector for generating your law firm's web traffic. Even better is the indirect trust factor you'll build with potential clients who read your content, particularly if you syndicate it to other sites and channels (which you should be doing). And, to answer a question I get here: Yes, potential clients – and not just the Google crawler – will be reading your content, if you are doing things correctly.
If your law firm is currently ignoring content marketing, adding a minimum of 1-2 articles a month into your law firm internet marketing plan can help you significantly increase organic search rankings, helping drive eyeballs while reducing your reliance on what looks to be increasingly competitive (e.g. increasingly expensive) PPC campaigns.
Mistake #2. Failing to Include Location in Keyword Phrases.
This mistake is what I consider low-hanging fruit in any law firm internet marketing plan, because it's easy to fix. Time and time again I'll see a law firm wishing to target, for example, "DUI defense" or "employment law" – and I'll immediately ask them why. Most law firms have a geographic area they serve, while those generic keywords cast a very wide net across the country and the entire globe. Any law firm wishing to rank for these generic phrases is likely to spend significant time and money to only end up disappointed, both because the results will be frustrating (improving from rank position 580 to 125 is a fantastic accomplishment that will still drive zero traffic) and the leads aren't likely to be well-qualified (e.g. a Southern California employment lawyer getting a lead from Chicago).
Instead, we counsel attorneys to include location in their keyword phrases: use "DUI defense Orange County" or "employment law Los Angeles". Not only does this mimic how potential clients will actually use Google when they have a question or need (resulting in better-qualified leads for your law firm), but you also aren't competing in Google's index against an entire globe's worth of content.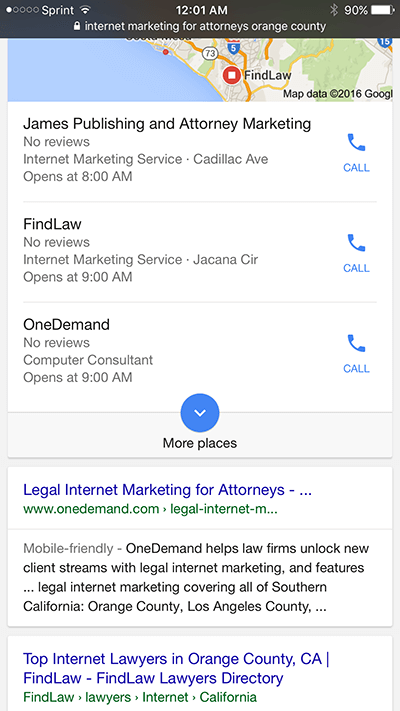 Example. We currently rank #1 organically on Google for "internet marketing for attorneys Orange County", but are on Google's second page for the location-less phrase "internet marketing for attorneys".
As a general rule of thumb, we suggest attorneys produce content targeting high-value generic keyword phrases every 1-3 months, with each iteration then also including different location variants within each keyword phrase. (For example, the first article targets to "DUI defense Southern California", the second targets to "DUI defense Orange County", the third targets to "DUI defense Los Angeles", and so on.)
Mistake #3. Whiffing on Social Media.
Social media is a very powerful part of law firm internet marketing, but as an attorney myself, I always caution clients that "with great power comes great responsibility". If a law firm is not ready to handle social interactions – particularly negative interactions – it is usually best to limit or turn off commenting capabilities where possible, and simply treat social media as another distribution channel in the firm's content marketing efforts. And, it goes without saying attorneys must always be mindful of ethics rules whilst using social media, particularly rules involving advertising and the attorney/client privilege.
[RELATED: Law Firm Internet Marketing – 3 Digital Rainmaking Tips for Attorneys]
That said, a great number of lawyers are finding significant success prospecting for potential clients using social media while staying within ethical boundaries. Even more, law firms who frequently use social media to distribute content are finding social signals can influence their organic search rankings (particularly true for LinkedIn in the past few months). Unfortunately, I consistently see law firms that either don't use their social media pages at all, or that use them entirely wrong.
Every day on Twitter, I'll see a law firm tweet out something like "We are an employment law firm! Check out our website!", or I'll see a Facebook ad for "Legal & Law, California Employment Lawyers" – and I cringe. Both approaches are totally hosing the value proposition of social media, and are instead treating social media as a new-fangled phone book.
Literally no one will click through a tweet or Facebook ad that reads like the phone book examples above. Instead, focus on promoting content that provides value – yes, even entertainment value every now and again! – to your intended audience. Tweet about topics your clients constantly call you to ask questions about, or run a Facebook ad targeted to a specific group of people that describes your client pool.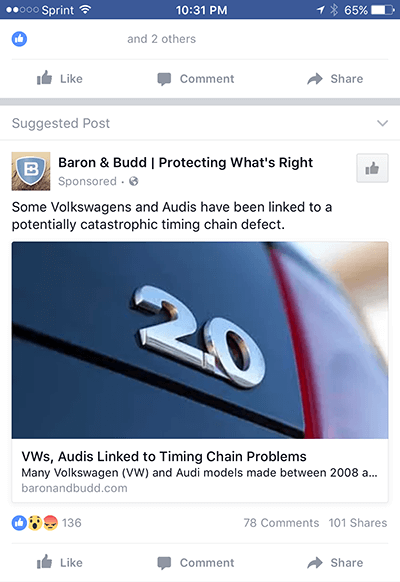 Example. This Facebook ad is spot on, as the high level of engagement shows. They don't just say "Baron & Budd – We're Your Product Liability Attorneys". Instead, this ad attracts the attention of the intended VW and Audi owners, who will immediately ask themselves "what's going on?" – and click through to find out.
—
I left the practice of law after nearly 13 years in part because I'm convinced law firm internet marketing is no longer optional, and I'm equally convinced it has become too complex and time-consuming for most attorneys to successfully navigate on their own. And, unlike any other agency in the space, OneDemand's law firm internet marketing engagements include the personal involvement of a partner-level attorney from strategy to content generation. Feel free to reach out for a free no-obligation consultation. I'll be happy to buy the coffee and explain why we're different.
Best,
Scott J. Jackson, Esq.